2005 LHS Spring Practice
Article by Jeff McQueen
Photos by Jammie Graves
The Loudon Redskins have finally completed spring practice in preparation for the fall '05 campaign. Conducting drills for spring practice wasn't an easy task this year. Trying to miss the basketball and baseball seasons the best he could; Redskin Head Coach Jeff Harig scheduled spring practice for late January through early February. However three days into drills, the flu epidemic shut down Loudon High School for almost two weeks. TSSAA rules give you 15 days from when you start to get in the allowed 10 days of spring practice. Coach Harig petitioned the TSSAA to allow a continuance and to hopefully recoup those first three days. In their infinite wisdom, the TSSAA approved the continuance; however they restricted what was left of spring practice to the remaining seven days and without a scrimmage game. So spring practice was rescheduled, pushed back until May 11th through the 20th. On the last day of spring practice, the Big Red held an impromptu Red and White Game.
With only 39 players dressed out, the Redskins looked a little thin. However the exceptional baseball season keep eight football players on the diamond. Good news for baseball Manager "G" Thompson, but bad news for Coach Harig as all three varsity signal callers were still wearing pin stripes. Up stepped rising junior Daniel Laughlin who hasn't played football since his days on "The Hill" with the Mustangs. Laughlin took all the snaps at quarterback this spring, although he is projected to play tight end this fall.
The returning stable of running backs including Tom Cruz, Matthew Packett, Brandon Dixon, and Mark Harrison looked good this spring. For the first time in ages the 'Skins will open the season with several players who have caught passes in varsity action! Led by rising senior Cory Fritts with plenty of help from talented teammates (Ben Everett, Jeremy Johnson, "Big" Ace Henry, Bobby Russell, and Wiley Brakebill), these wide outs are looking to air it out. Taylor Eldridge will anchor the tight end spot as well as defensive end duties. The sure handed senior hauled in two receptions last season, including a 20 yard touchdown catch. With plenty of targets, could this be the year of "Air Fritts"?
The "O" and "D" lines should be one of the best units fielded by the Redskins in several years. Veterans John Paul Hackney, Jimmy McQueen, Joe Webb, Tyler Roberts, and Clay Matlock will be joined by newcomers Jake Nichols, Tim Ramsey, Dustin West, Daniel Hampton, and Thomas Franklin Davis.
In summation, heavy laden with senior leadership this should be a break out year for the Redskins. With fourteen seniors plus a plethora of talented underclassmen, the 'Skins will compete against the upper echelon of Region 2-2A. The most impressive thing about the Big Red this spring was a new found swagger!
The missing links… production from a No. 2 running back to keep all our opponents from keying on Josh Hawkins and the elusive 100 yards passing per game plateau.


       The Redskin Seniors (that participated in spring practice) are:

	Joe Webb - offensive and defensive lines
	Jimmy McQueen - offensive and defensive lines
	Clay Matlock - offensive line and linebacker
	Mark Harrison - running back and defensive back
	Taylor Eldridge - tight end and defensive end
	Cory Fritts - wide out and defensive back
	Andrew White - tight end and defensive end
	Matthew Packett - full back and middle linebacker
	"Big" Ace Henry- wide out and defensive back
	Cody Wiggins - offensive line and defensive end 
	John Paul Hackney - offensive and defensive lines
	Tim Ramsey - offensive and defensive lines
	Brandon Dixon - full back and linebacker


On a final note, the Redskins have a unique window of opportunity this upcoming season that has only presented itself twice in 82 years of Redskin Football… and that is to be the undisputed Loudon County Champions. In 1997 and 1998 your Loudon Redskins defeated both the Lenoir City Panthers and the Greenback Cherokees! It's hard to believe that we have only played the "Kee's twice all time, but we open with them at home on August 26th. GO BIG RED!!!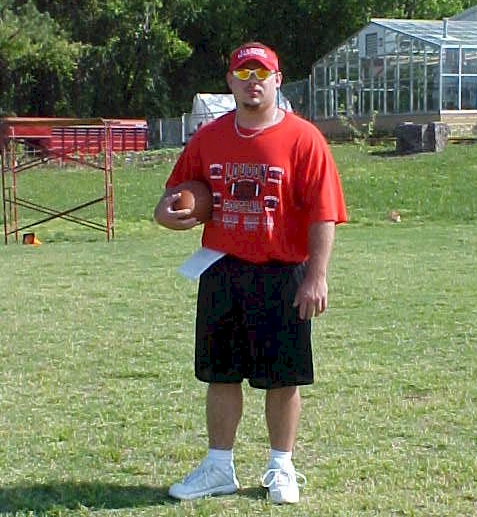 With the departure of Coach Scott Mackintosh, Justin Tucker joins the Redskin coaching staff as a volunteer assistant. Tucker a 1998 LHS graduate, played on the 12-2 '97 squad wearing #33.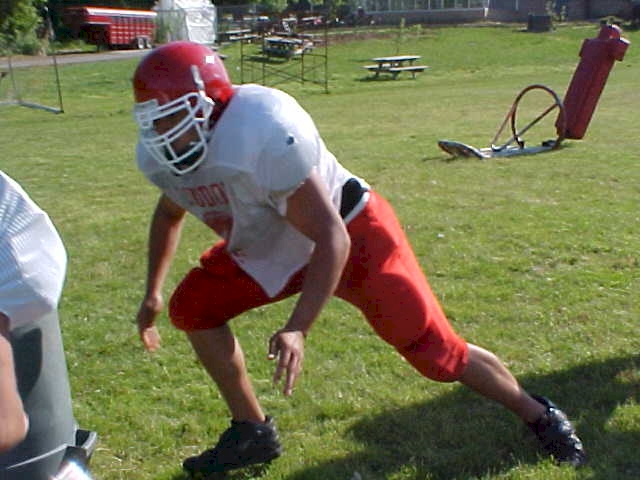 Daniel Hampton working on a reach technique.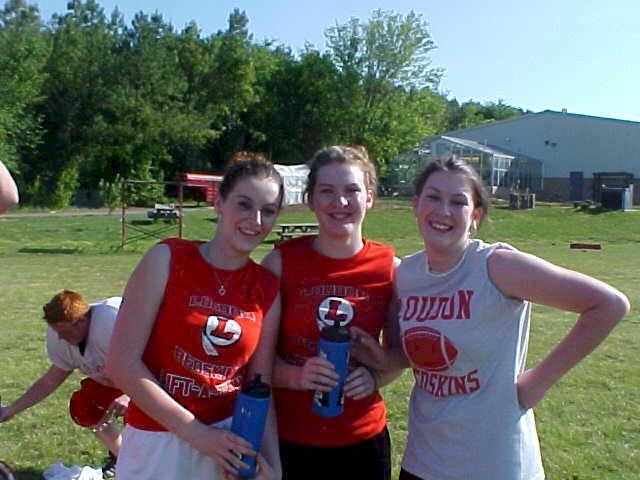 Mangers Amanda Gunter, Brianne Smith, and Brinlea Smith work hard at spring practice too!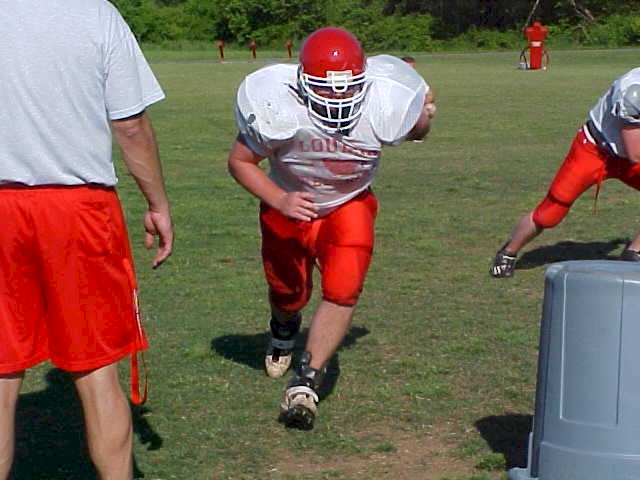 Jimmy McQueen blasting through a slant drill.

Coach Harig addresses the troops after a hard day of practice.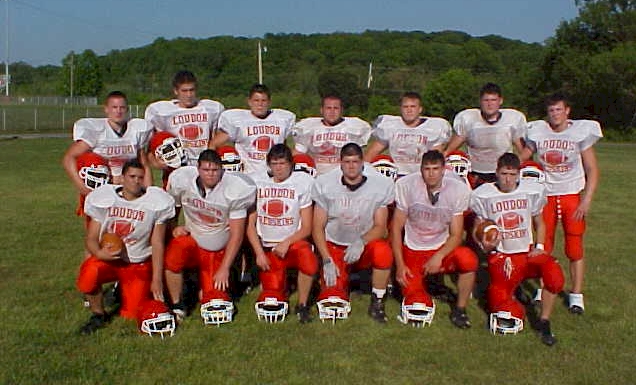 Seniors: (front row l/r) Tim Ramsey, Jimmy McQueen, Cody Wiggins, John Paul Hackney, Clay Matlock, "Big" Ace Henry (back row l/r) Mark Harrison, Andrew White, Joe Webb, Matthew Packett, Brandon Dixon, Taylor Eldridge, and Cory Fritts